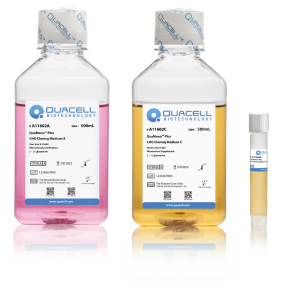 QuaMono™ Plus CHO Cloning Medium, Liquid
Learn More
Product Description
QuaMono™ Plus CHO Cloning medium is a serum-free, animal-source-free medium developed for rapid multiplication of monoclonal cells, which can significantly improve the rate of proliferation, maintain good cell status, and shorten the monoclonal experiment cycle.
Product Components
| | |
| --- | --- |
| L-glutamine | No |
| Phenol red | No |
| Sodium bicarbonate | Yes |
| Hydrolysate | ACF |


The monoclonal increase of K1 cells in QuaMono™Plus and control medium. Control: Medium S is the monoclonal medium of supplier S, Control is the traditional proliferation medium + 15% FBS formula; 96-well culture plate, humidity 75%, 5% CO2, 37 ℃ static culture. The cell imager was used to record the growth of single cells every day after plating by the limiting dilution method.
Certificate of Analysis (COA)
Certificates of Analysis (COA's) describe quality control data for specific products.
Please enter Lot No.& Cat No. (e.g.Axxxxx) and click Query.
If your search does not return any results, pleasecontact us for assistance.
Protocol & Documents