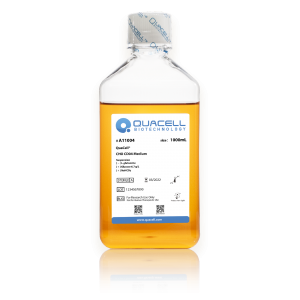 QuaCell® CHO CD04 Medium, Liquid
SKU#: A11004
Size: 1000mL
Learn More
Product Description
QuaCell® CHO CD04 provides a rich environment for high-density CHO cell growth. QuaCell® CHO CD04 is a serum-free, animal component-free, chemically defined medium developed for CHO suspension culture to express antibodies and protein products. CHO suspension cultures can be subculture directly into QuaCell® CHO CD04 from the serum-supplemented or serum-free medium with little or no adaptation. QuaCell® CHO CD04 is formulated without hypoxanthine, thymidine, and L-glutamine, suitable for DHFR, glutamine synthetase (GS System) screening system.
Product Components
| | |
| --- | --- |
| L-glutamine | No |
| Glucose | 6.7 g/L |
| Hypoxanthine & Thymidine | No |
| Phenol red | No |
| Sodium bicarbonate | Yes |
| Hydrolysate | No |





Figure1. Fed-Batch performance of three cell lines in QuaCell®CD04+Feed02 and other commercial media combinations. Cell line: K1 (hIgG), CHO-S (hIgG), K1-SV (FC-Fusion Protein); control: Combination A is the medium and feed of supplier G, Combinational B is the medium supply of supplier G Commercial H feed; 12mL shake flask, working volume 30mL, ф25mm, 125rpm, humidity 75%, 5% CO2, 37 ℃ for 14 days. Refer to the respective instructions for the feeding strategy, and when the glucose is less than 3g/L, supplement to 6g/L.
Certificate of Analysis (COA)
Certificates of Analysis (COA's) describe quality control data for specific products.
Please enter Lot No.& Cat No. (e.g.Axxxxx) and click Query.
If your search does not return any results, pleasecontact us for assistance.
Protocol & Documents