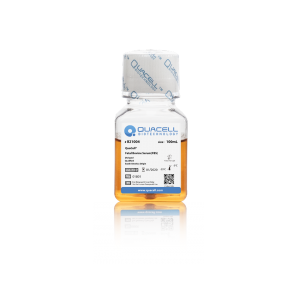 QuaCell® Fetal Bovine Serum (FBS), Dialyzed
Learn More
Product Description
Description: Dialysis fetal bovine serum is dialysised through a dialysis mold with a molecular weight cut-off of 10,000 Daltons. This process non-selectively removes small molecules with a molecular weight below 10kDa in fetal bovine serum, such as certain hormones, nucleotides, inorganic salts, low molecular weight proteins, short peptides, amino acids, glucose, residual antibiotics and other foreign sources Molecules etc.

Dialysis fetal bovine serum can be used for scientific research that requires special attention to the concentration of small molecules, including proteomics, isotope labeling, cell signal transfer, and screening of reporter gene cell lines.QuaCell® Dialysis Fetal Bovine Serum is made of special grade fetal bovine serum (QuaCell Cat.#B21001) as raw material, processed by glass fiber (MWCO: 10kD) dialysis in Hank's balanced salt solution, and then made by 0.1 micron sterile filtration .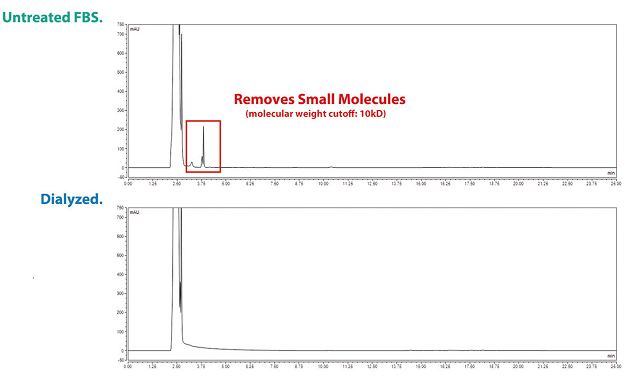 UPLC test results of FBS samples before and after dialysis. It can be seen that many small molecules in FBS have been removed, but the components with molecular weight greater than the cut-off threshold are retained.
Certificate of Analysis (COA)
Certificates of Analysis (COA's) describe quality control data for specific products.
Please enter Lot No.& Cat No. (e.g.Axxxxx) and click Query.
If your search does not return any results, pleasecontact us for assistance.
Protocol & Documents