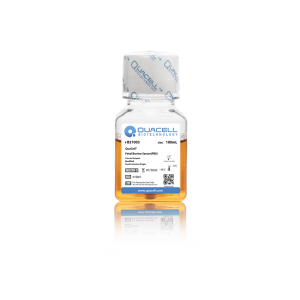 QuaCell® Fetal Bovine Serum (FBS), Charcoal Stripped
Learn More
Product Description
Product Profile Charcoal stripped fetal bovine serum has been absorbed with activated carbon that removes non-polar material such as lipophilic (lipid-related) materials (virus, certain growth factors, hormones and cytokines) regardless of molecular weight but has little effect on salts, glucose, amino acids, etc.It provides a more defined material for elucidate the effects of hormones in a variety of in vitro systems. Studies include steroid- receptor binding, steroid regulation of cellular receptors, hormone secretion of various tissues and the function of thyroid hormones.QuaCell® Charcoal Stripped FBS is processed on the basis of Fetal Bovine Serum (FBS), Qualified (QuaCell Cat.# B21001). The production procedure includes the use of charcoal and dextran to remove the hormones from the FBS.
Product Parameters
Filtration: 100 nanometer filtration

Source: Uruguay, South America

Grade: Fetal cattle

Endotoxin: ≤5EU/ml

Double time (MCF-7): ≤30h

Single cell growth rate: ≥20%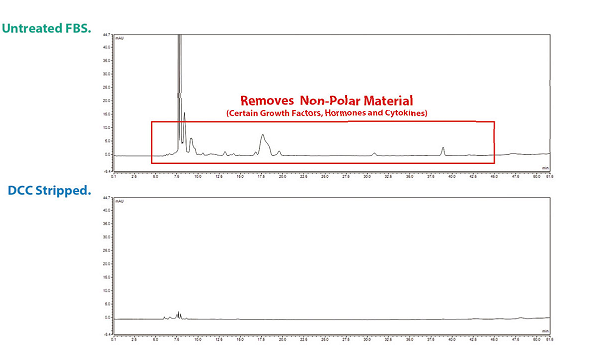 Figure 1. UPLC results of FBS samples before and after DCC stripping treatment. Thus it can be seen that various growth factors, hormones and cytokines in FBS were effectively reduced after DCC stripped.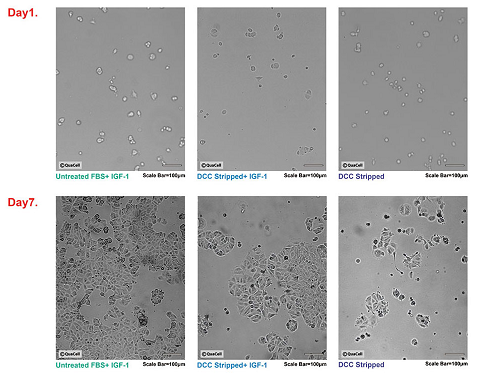 Figure 2. Growth test results of hormone-sensitive MCF-7 cells. Group 1 (Untreated FBS+ IGF-1)Stimulating rapid proliferation of MCF-7 cells. Group 2 (DCC Stripped FBS+ IGF-1): MCF-7 cells grew at normal rates. Group 3 (DCC Stripped FBS without IGF-1): MCF-7 cells grew slowly. Base Medium: MEM (Phenol red free,with NEAA and Glutamine). Additive:0.01 mg/ml recombinant human IGF-1 Untreated / DCC Stripped FBS to a final concentration of 10%. Atmosphere: air, 95%; CO2, 5%. Temperature:37°C. The results showed that the contents of insulin and estrogen were effectively reduced in FBS stripped by DCC.
Certificate of Analysis (COA)
Certificates of Analysis (COA's) describe quality control data for specific products.
Please enter Lot No.& Cat No. (e.g.Axxxxx) and click Query.
If your search does not return any results, pleasecontact us for assistance.
Protocol & Documents