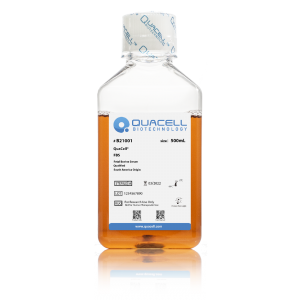 QuaCell® Fetal Bovine Serum (FBS), Qualified, South America Origin
Learn More
Product Description
QuaCell®High quality Fetal Bovine Serum comes from Uruguay; all import procedures are in compliance with China's entry-exit inspection and quarantine regulations.The product is suitable for R&D and production processes in basic research,biological products, vaccines, bio-pharmaceuticals, etc., and can satisfy most cell lines and primary cell growth culture, it has excellent performance in the culture of cells such as Hela,HEK293, BHK, MSCs, and ESCs.
High quality, each batch of products has been rigorously screened to ensure that more than 50 inspections and 17 key indicators are qualified at the same time.

Reliable, products commissioned to well-known company were produced in accordance with GMP standards, to ensure the high stability and high uniformity of the same batch.

Safe, non-epidemic area blood source, all products or raw materials have complete customs declaration or related compliance qualification.
Product Components
FilterTriple:100 nm sterile-filtered

OriginalUruguay:Age

FetalEndotoxin Level≤5 EU/ml

Product Size:500ml/Bottle

Doubling Time (sp2/0) :≤16 h

Single Cell Growth Rate :≥20 %



Certificate of Analysis (COA)
Certificates of Analysis (COA's) describe quality control data for specific products.
Please enter Lot No.& Cat No. (e.g.Axxxxx) and click Query.
If your search does not return any results, pleasecontact us for assistance.
Protocol & Documents